Keto Diet Explained
Disclosure ~ This post contains affiliate links. 
There is a craze called the Keto Diet. I will tell you all about the keto diet and how I do it. Everyone does things different, but all in all everyone does this way of eating for basically the same reasons.  Weight loss, and better health.
If you follow me on Facebook or are friends with me on Facebook you already know that I have started a new WOE (way of eating) over the last 6 weeks.  (please follow me and become my friend) It all started because my husband decided it was time to make a few changes and he wanted to lose about 30 lbs. so he was doing a low carb WOE since about February.  To help him out I would cook low carb meals for the meals we ate together. But, because I loved my grains and my sweets (cake, donuts, pasta, rice, candy, fruit, baked goods,.. OH MY) I would still buy the bad stuff and eat it during the day when he wasn't home.  I figured I didn't have to lose weight really, ok, maybe a little, but anyhow I just thought more exercise and less sitting might help that.  With my Fibro it seems I go up a few pounds when I hurt due to no exercise and then on weeks I feel good and exercise I go back down.  But, to be totally honest, I had begun to get those dreaded love handles and a bit of a tummy over the last year.  I could blame many things, like my broken ankle, my ankle hardware removal, my breast augmentation, my Fibro, etc. But, all in all I believe 75% of it has to do with my diet!  YUP…. I said it.. My DIET Sucked!!   During the week not totally terrible, but we love to eat out and on weekends I was a burger and fries girl at least 2 out of the 3 days on pretty much every weekend.  What can I say, it's hard to pass up a good burger!!
So, a while back a friend I know had posted some stuff about her Keto lifestyle on FB.  I looked at it and honestly the word KETO just threw me off.  I had never really heard of this thing called KETO, and at the time just didn't have any desire to try and learn yet one more thing to do with healthy eating.  People always come to me with questions on diets and exercise and I love helping people but yet, helping myself had fallen by the wayside.  I really don't know what it was 6 weeks ago that actually made me start to really dig into learning but I did and am so happy I did.
See my little black Shih Tzu. He photo bombed 😉  LOL
So, you ask – What is the Keto Diet ?   Well let me give you a shorter version of what you might find online.   Most people know what a low carb WOE is all about. You eat low carb.  Remember when the Atkins book came out and it was all the craze to eat a ton of bacon and very little carbs.  Ok, so even though Atkins is still around and millions still do it with great success, Keto is a bit different and in my opinion harder but so so so (freaking) worth it!!  I did a lot of research online and finally ordered a book after looking at hundreds of sites and things one can order to start this WOE.  I decided to order a book by Leanne Vogel, called The Keto Diet.  This book really is the bomb and totally explains things in pure and simple English.  There are many books or websites out there that will basically scare the pants off you if you are totally clueless about Keto (which I was).   I highly recommend The Keto Diet book to anyone new to Keto, or even if you have been living the Keto lifestyle as it not only has a ton of basic info for every day life of Keto but is packed with more than 125 yummy recipes and has 5 meal plans to boot!
After reading all about what Keto was, and the fact I live with Fibromyalgia which also gives me super fun IBS-C ( TMI ? But I can go for 3-5 days without going #2 ), I decided that maybe it was time for me to give this WOE a try and maybe it would help with some of my health issues.  Being 45 (46 on Sept 9th), I knew that some of my mid section fat was just not going to come off with exercise alone as at my age the fun hormonal stuff starts to happen and that is where women carry it.  Thank you cortisol!! (NOT).  I knew my diet needed an overhaul and let me say – That is what it got!!  Keto is about high fat, low carb.  But, not just low carb like Atkins.  It is about healthy carbs, meaning, no grains or dairy (except high fat dairy), or sugars.   Sounds impossible right ?  Well it is not impossible at all if you have the right tools to get you started!   The Keto Diet book is amazing and will give you a ton of tools needed to not stress about your new WOE.  There are also a ton of other books and helpful tools at Healthful Pursuit and I highly suggest any or all of them.
The meals I make now are just as satisfying as what I used to make, but yet are healthier and giving us the right fats/protein/carbs we need to be in Ketosis.  When in Ketosis your body is burning the already stored fats and that is why you shed weight.  The first few weeks I hear people shed a good amount of weight and even though losing weight is a goal for many, for me it was about healing my body.  I have in 6 weeks shed about 12 lbs. and my husband about 16 lbs.  Difference there, I might be done losing weight as I am 5'6, 128 lbs. currently.  I might loose another 5 lbs. or so, but with my weight training I probably will stick around the 128 lbs. mark. I am ok with that.  What Keto WOE has done for me other than the weight loss and no more love handles (yeah!!), is that I am more "regular" than before.  I do feel as though I sleep better too.  I seem to sleep harder than I have in years.  Yes, I am still tired all day, but that might be just the life of Fibro and something that might never change.  I do however find myself being able to focus on tasks and get thru my day better and get more done.  No, not every day, but better than a few months ago.  I know the longer I stick with this WOE the more I will see things change.  One big thing for me is that my hair started to fall out.  I was totally freaked out at first, until I got the book and saw that it's a normal thing when changing ones WOE.  I know that in about 3 months my hair will be all healthy and stronger than ever as I am feeding my body right.  With any change of life/WOE there are always things that happen to ones body so we just need to accept that and move forward.
For me, I do a ratio of 130g Fat/75-100g Protein/30g Carbs and let the calories fall where they may.  I do use an app to track things some days, and other days just kinda eat like the days before and I have learned what I can't eat so just steer clear of the bad carbs/processed foods/grains/sugars.   I keep a lot of veggies, salad, ground beef, pork, butter, half and half, whipping cream, coconut flour, almond flour, Stevia, chia seeds, cacao powder, eggs, pure vanilla, almond butter, nuts, moon cheese, cheese, almond milk, olive oil, coconut oil, avocados, pickles, olives, etc.  And of course, lots of BACON!!  LOL!   I do bake up about 2 lbs. of bacon a week to keep on hand for a snack, to add to meals, etc. Yes, I did say "bake" it.  I use a huge cookie sheet and put a couple baking racks on it. I lay out my bacon, and bake for 30 min at 400 degrees. This makes it done, but not over done.  That way I can zap it in the microwave to heat up and cook a bit more, or use as is in recipes.  YUM!
I will be sharing fun recipes from time to time to help you with your new WOE, but I do highly suggest those books to anyone who is thinking about or even already doing KETO.  You can also follow me on Instagram and my Keto Pinterest Board for fun Keto stuff.  Now, time for my no oat oatmeal (made with almond milk, chia seeds, MCT oil, cacoa powder, and stevia), and some coffee to start my day.
Save
Check out these banners for my keto product recommendations.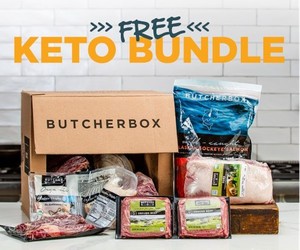 The best meat money can buy!