Disclosure ~ Product was received as compensation for our honest review of Ketoil.  
KetOil from KetoSports review is now up on my channel. If you follow a Ketogenic diet this product may be a huge benefit to you.
I have posted a link to my review and a link to the KetoSports web site if you want to order the KetOil.
The Info from their website:
KetOil is a 50/50 blend of Grass-fed Organic Ghee and Organic Coconut Oil Naturally nutritious cooking and baking blend with a higher smoke pointIdeal for baking, sauteing, stir-frying, and more Adds a delicate, buttery flavor to your recipes Healthy saturated fatty acids for energy, cell protection and repair High in MCTs (medium chain triglycerides) Coconut oil, as a diet aid, is used to increase metabolism, aid in digestion, and promote good cholesterol. However, the most beneficial effects of this fruity friend comes in increased health benefits when used to replace common household cooking oils. KetOil combines coconut oil and ghee to increase the number of possible cooking applications. Ghee is the most potent, least allergenic and most nutritious source of animal fats. These two oils in combination result in an oil that has a higher smoke point and is great for sautéing, pan frying, baking and stir-frying.
This product is Keto & Paleo Friendly.
SUPPLEMENT FACTS
Serving Size: 1 Tablespoon (14g)
Serving Per Container: 28
AMOUNT PER SERVING
Calories: 122
Calories From Fat: 122
%DV
TOTAL FAT 14G 21%
SATURATED FAT 10G 52%
TRANS FAT 0G
CHOLESTEROL 18MG 6%
SODIUM 0G 0%
TOTAL CARBOHIDRATE 0G 0%
VITAMIN A 4%
*Percent Daily Values are based on a 2,000 calorie diet. Your daily values may be higher or lower depending on your calorie needs. Not a significant source of Dietary Fiber, Sugars, Vitamin C, Calcium or Iron.
Ingredients: Organic Coconut Oil, Grassfed Organic Ghee (certified butter).
Check out my Youtube Review
Thanks for watching! Be sure to LIKE SHARE and SUBSCRIBE!
Check KetoSports out on their social channels ~ Facebook, Twitter, Instagram. 
Check out these banners for my keto product recommendations.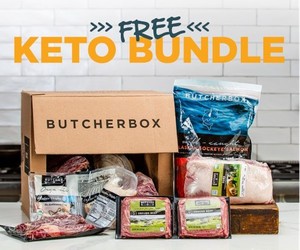 The best meat money can buy!