If you have ever decided to live a Keto or Low Carb then you know one of the challenges of this way of eating is finding low carb/keto-friendly treats. Regular store bought cookie are totally off the menu. So what do you do? Well the makers of keto kookies came up with a solution.  If you have a hankering to grab something sweet, without blowing your hard work down the drain read on!
Keto-friendly Treats Made Easy
If you're either new to ketogenic  or low carb living or you've been doing it for awhile you're probably already wished for more ready made snacks and treats available. Ones that don't require you to make from scratch. The problem is that your average grocery stores don't easily cater to special diets. Many, even those labeled as "health food stores" are filled with a lot food that is just down right bad for you body. Most pre packaged foods in any stores will not be made to cater to the low carb/keto lifestyle.  That is, unless you find awesome ones like I have, Keto Kookies.
So when friends Kristoffer and Victor started Keto they found that one thing was missing: desserts, snacks and sweets. That's when they came up with Keto Kookie.
What are Keto Kookies?
The makers describe as "a sweet and buttery harmony of almond flour, dark-chocolate, coconut, grass-fed butter, and natural sweeteners." After sending out samples they got delicious reviews. Thus began their business of making keto-friendly treats.
The Keto Kookie has 1.4g net carbs with no sugar or gluten. They are sweetened with natural sweetener erythritol and Monkfruit extract. You'll find them available in three flavors: chocolate chip, cinnamon snickerdoodle and double chocolate.
These cookies are baked in small batches and are shipped within 2-3 days of your order. There's 10 servings in a package containing a total of 20 cookies. They have a 2 month shelf life. Or, you can store them in the fridge for longer. You can, also, pop them in the microwave for 7 seconds to warm them up before eating.
In December they added 2 new flavors which I got to sample.  Peanut Butter and Birthday Cake.  Both, were so yummy, but my FAV of the 2 was the peanut butter ones.  I am a huge peanut butter lover so kinda figured I would love those.  The Birthday Cake was super good too and was perfect with a cup of morning coffee.
If you have a sweet tooth, or even if you don't and just are looking for a great snack that won't crush your hard work, make sure to check out Keto Kookies.
Check out these banners for my keto product recommendations.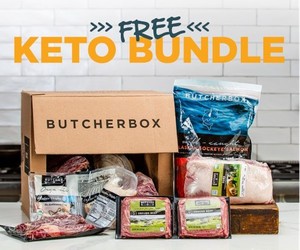 The best meat money can buy!