While many become interested in the Ketogenic lifestyle to lose weight, others have discovered other benefits beyond losing weight.  Because the Ketogenic diet takes you from living on a carb dependent diet to one of low carbs, high proteins and healthy fats, you'll notice other improvements in your health, too.
Ketogenic Lifestyle Not Just for Weight Loss
Low carb has been studied and it is well documented that their effectiveness is multi-faceted. Of course, the thousands of people who have lost a lot of weight and were able to keep it off makes a low carb eating plan something of an attractive proposition, especially since it is not your typical fad diet, but an actual lifestyle change. Harvard completed a study that explored just how impressive the results of a low carb diet can be for weight loss, in comparison to a low fat diet that people tend to rely on for all of their weight loss needs. By now, most people are aware how excellent low carb diets can be for rapid weight loss, but do they offer any other health benefits? Yes, they do, and that is what makes a low carbohydrate diet such an attractive option when deciding what path to follow.
Additional Health Benefits
The European Journal of Clinical Nutrition explains what other effects a low carb diet has on the body. For example it's been used since the 1920's to help epilepsy sufferers reduce the symptoms. Furthermore, in some cases has made the use of medication unnecessary. In a Life Extension article, it's mentioned other neurological conditions have benefitted, too, relating to learning and memory.
Progress in medical research is proving a low carb diet can be used to help in several conditions including: polycystic ovary syndrome, decreasing the risk of cardiovascular disease, diabetes, Parkinson's, Alzheimer's, a number of strains of cancer, diabetes and even acne. And a study by the Mayo clinic has found it helpful in decreasing the risk of high blood pressure.
Carbs and Type 2 Diabetes
Carbs come in two types: simple and complex. Simple carbs include sugar, honey and white floor. Your body processes these which releases insulin quickly.  But just removing simple carbs is not enough. Any carbs triggers insulin. The blood sugar in your body will rise. Your body stores the extra sugar as fat.
By reducing carbs, the Ketogenic diet helps the body not be dependent on sugars for energy. Instead, the body enters a state of ketosis in which the body burns the fat store up. The body loses weight and reduces the risk of Type 2 Diabetes.
But it goes beyond a temporary diet to end this disease and others related to obesity. It's a lifestyle change to maintain weight and health benefits. By reducing your carb intake you naturally feel less hungry, tend to eat less calories and control cravings.
Fighting Against Cancer
Sugar is a major source of energy for cancer cells. An article called "Can Ketogenic Diets Fight Cancer" explains how cancer cells are starved when the a person changes to a ketogenic diet. This is still in the early stages of research. But, a cancer patient may wish to limit carbohydrates to have a more nutritionally beneficial diet.
In conclusion, I hope I've helped you to see how beneficial it can be when you reduce the carbs in your daily diet. You not only lose weight but improve your health in many areas and increase your longevity. Life Extension has been helping people live healthier lives for over 35 years with over 350 vitamins and nutritional supplements.
Check out these banners for my keto product recommendations.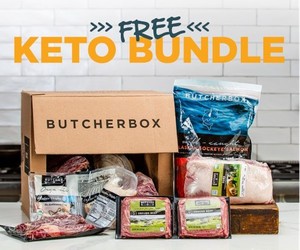 The best meat money can buy!