Disclosure ~ This post may contain affiliate links.  An affiliate link, when clicked, at no additional cost to you may earn a small commission for Living Smart Girl.  Thanks for your support. 
Can you believe that 2018 is almost at the half way point?  Where did the last 6 months go?  I swear it was just Christmas, and snow on the ground, and I was making my list of things to get accomplished in 2018, and here I am looking at that list, and it's almost June, and I have barely crossed anything off it!  Dang!  I know one of my "goals" or accomplishments on my list was to get into a regular exercise routine. Well I did for a bit, with a fun 3 Week Yoga Retreat when my son was living here and his girlfriend and I did it together, but then life got busy and that went right out the window.   I still do yoga, but not as much as I should and want to.
I have been eyeballing this awesome Bowflex MaxTrainer for some time and after much thought, and reading reviews, and joining Facebook groups to see what others thought, I took the plunge today and wanted to share my excited, and some great deals for anyone else wanting to get back into the swing of things, fitness style. You can get a Bowflex MaxTrainer and save huge if you jump on it now!
Not sure what a MaxTrainer is ?  Well it is one of the newer types of at home fitness systems that has quiet the buzz because of the short workout you can do for max results.  You burn now and burn later when you use the MaxTrainer.  It's a 14 minute Max Interval workout that uses simple science to deliver a very complex result.  Science shows that small bursts of activity followed by longer periods of rest keep your body guessing and ramp up your metabolism to burn additional calories for hours after you workout.    And it's small so you can get a gym type workout, in any room of your home, on your time.
The MaxTrainer comes in 3 styles.  M3, M5, and M7.   They range from $999 to $2199 when purchased from Bowflex.  I know some stores like Dicks Sporting Goods, will carry them and they do match pricing.  I knew I wanted one, so I visited my local DSG and just tried them out there because I like to order online and have things sent right to my house.
Also, I love ordering stuff online because I take great pleasure in earning cash back on every purchase I make.  I saved $401 on my purchase of the MaxTrainer M5 today!! Woot Woot!!  If you order now and use MEMORIAL18 you can save big.  They have savings on everything on the Bowflex site.  But, make sure you save and earn when you purchase.
I have 2 cashback sites I use ALL the time.   I check and see what one offers the best cash back or any other coupons and then shop thru that one.  You can join either of these or both, because it costs you nothing to join.   I use TopCashBack and BeFrugal.  There is always the option to buy on Amazon but generally any sales or coupons available can't be used on Amazon. However, if you like shopping Amazon you can get your MaxTrainer there too.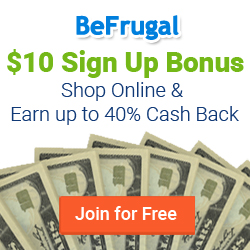 I can't wait till mine comes, I get it hauled up my spiral staircase and all put together.  I know I promote a lot of fitness stuff, but I am like most and just am not in love with exercise itself.  Yes, I enjoy staying fit, and being active.  With my Fibromyalgia, it's very important to be active and stay in motion.  But, that doesn't mean I can always find the time to do an hour long workout, or take a couple hour walk or bike ride.  Life is busy, but I know I need to stay active and I am very excited to see what the MaxTrainer can do for me.  I am going to start out by listening to my body.  I will do the 14 min, at least 4-6 days a week and also do yoga 4-6 days as yoga helps keep me flexible.
Do you have a MaxTrainer? Or maybe you have been wanting one?  Leave me a comment and tell me.