Proud to be a Nature Made Ambassador
And inviting you all to join me over the next 3 months as I bring my Nature Made experience to you.
First, I have to say that I am very thankful to Nature Made, and all the people involved in making my trip (and everyone's) a ton of fun and a great learning experience.  I am excited to share what I learned with you all.   I am taking a 2013 Healthy Pledge and I am asking you all to do it along with me.   Look at your life, and see what you can do to make a change for the better. Goal ~ Setting higher standards in your life.  Maybe you need to eat healthier, exercise more, get better sleep, take vitamins, or just take some over due "me" (you) time.  Regardless, it is time to take the pledge.
I was so excited for my trip to L.A. and to learn about Nature Made, and the new VitaMelts.  #VitaMelts
Here I am in the car all excited on my way to the airport on Jan 16th.   My plane didn't leave till 3pm. but I had to head out early as I was on the way to see a doctor for my bunions.  Yup.. I have them but won't for long.  I scheduled surgery for March.  Tired of living life with feet that hurt, so that is also part of my 2013 Healthy Pledge ~ Take care of my feet!
See my smile ~ I was a happy girl for many reasons.  One, I have never been to L.A.   Two, I was getting out of the Minnesota cold.  And three (but the most important) I was going to learn all about Nature Made.
Well, as life would have it my plane was delayed, so I had to change my 2nd flight which put me into L.A. really late.  I finally got to my hotel room at about 11:15 pm and was so tired.  But, I was happy to see such a nice room and that king bed all for me.
I unpacked my clothes, did a bit of ironing and then went to bed.   The next morning was fun as all of us gathered for breakfast and it was the first time for most of us ever meeting.  The trip consisted of 10 bloggers so it was fun to see all the different girls and learn about them all.    After a great breakfast we all piled into a couple vehicles and headed to the Nature Made office where we all gathered into a conference room to meet with a couple people from Nature Made to learn about the new VitaMelts and ask questions that we may of had.  That was a lot of fun, and we all learned a lot. No lack of questions or answers.
We started out talking with Erin O'Malia Gehan ~
Vice President, Marketing.  She explained how they plan to market VitaMelts and asked for feedback and questions from us.
As you can see everyone is taking notes so no detail is forgotten.
This is Louis I. Ndife DVM PhD. ~
Director, Medical and Scientific Affairs.   Louis answered many of the questions we had about the science behind VitaMelts.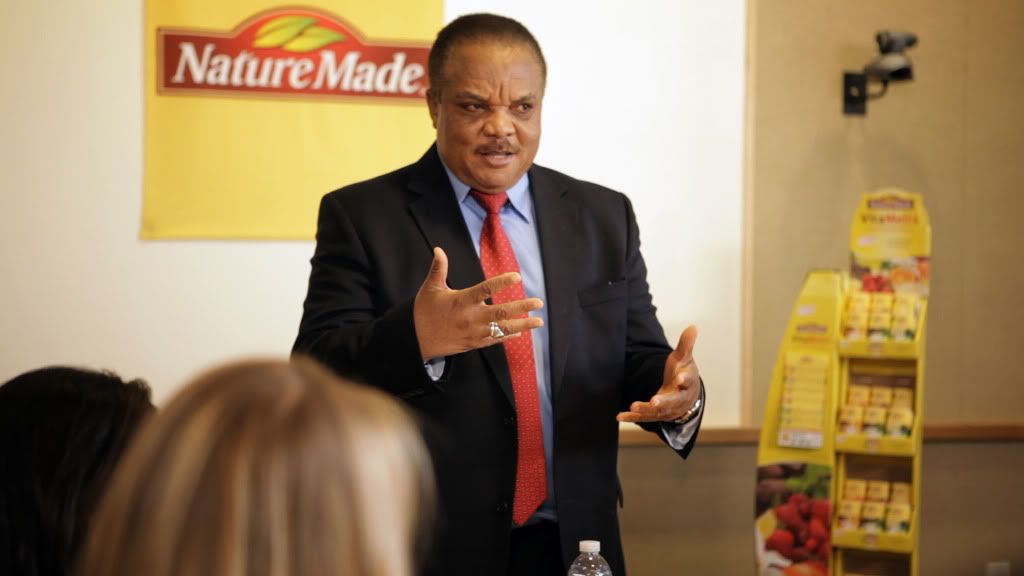 We also spoke with John Welk ~  Director of Insights.
He talked with us about the packaging, displays, and presentation in stores about VitaMelts.  There are many aspects that go into launching a new product or products that one might never think of so this was very interesting to learn how a company goes about their product launch to appeal to consumers like us.
After a few hours talking about the company and the new VitaMelts we headed to the packing facility where we got to see how things are packaged and also speak with Jones Chan ~ Director of Research and Development.  He was fun to listen to and had good information pertaining to all vitamins.  I learned things I didn't know, and I have been writing about vitamins for a while now so that I really enjoyed.   It was great to learn all about VitaMelts, and how they came about.
There are 6 different VitaMelts  ~ Zinc, Vitamin D, Vitamin C, Relax, Energy, and Sleep.
Adding these six new, easy to take vitamins will help consumers get what their bodies are lacking in daily nutrients.  Even though many of us eat healthy, or at least try to it isn't always easy to get all that our body needs.  Using vitamins like the VitaMelts helps to bridge the nutrition gap.  Plus, these taste so good you don't feel like you are taking vitamins.  Easy to take, easy to tote, and good for every body's body.   I keep the Energy in my purse, and the Sleep next to my bed.   I tossed an Energy in my husbands lunch pail and my son has the Vitamin C and the Energy in his car.   It puts my mind at ease to know that I can now offer my family an easier way to get their vitamins because I know they are not always on top their game when it comes to eating healthy when they are not at home.
Friday was another full but fun day.   It was a video shoot for Nature Made and VitaMelts.   We were divided into groups to talk about what we learned the day before and then also on camera alone as well as photo shoots. It was like being the cast of the View, all sitting around a table talking and sharing things we know and learned.  That all was fun, and to boot it was a beautiful day out so when we were not shooting the video's we all relaxed outside in the sun.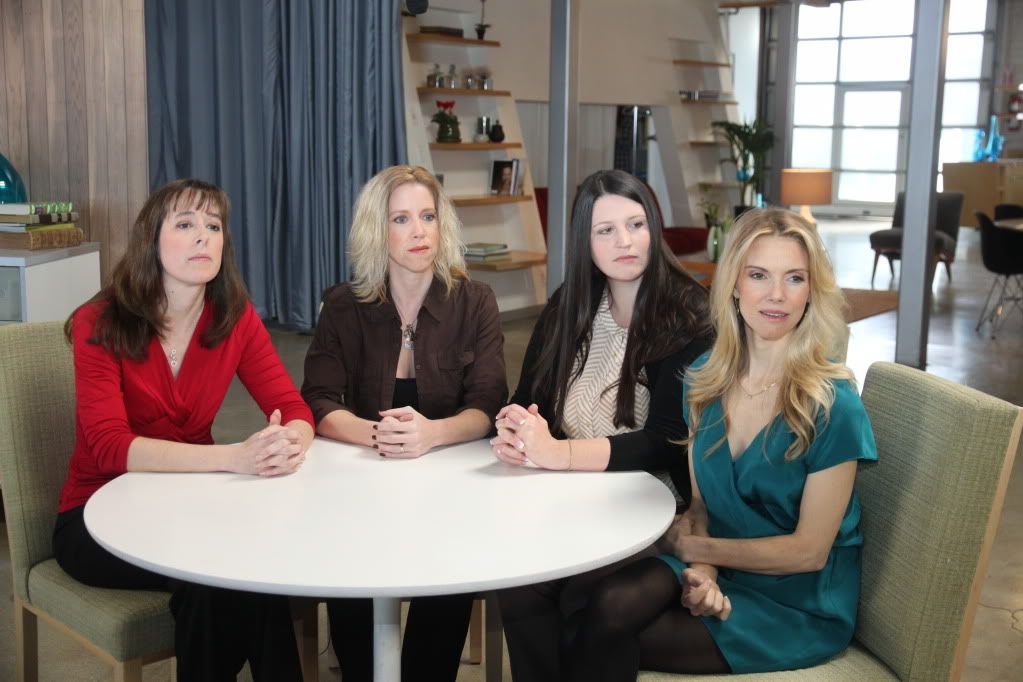 I had made a connection with one of the bloggers (Diane) before our trip and so it was fun to meet her.
Aside from all the fun parts of the trip I learned so much and am excited to be able to now share what I have learned with you all.  So, in my 2013 Healthy Pledge I am going to start taking better care of myself.  I tend to worry about everyone around me while putting myself on the back burner.  No more!  I will make time to fit my exercise in, along with making healthier food choices and taking my vitamins with my food instead of all at night like I have always done.  That was one of the things I learned from Jones.
While I know how busy everyone is, I know that there are many little things we all can do to lead healthier lives.  So, who is with me in the 2013 Healthy Pledge?  What do you pledge to do to live healthier?
Nature Made® VitaMelts™ are a new "one of a kind", enjoyable way to take your vitamins because they melt in your mouth and taste great. Discover how new Nature Made® VitaMelts™ can transform your vitamin taking experience by making it enjoyable.  Visit us on Facebook (hyperlink the word "Facebook" to this URL: https://www.facebook.com/naturemade) to get a coupon.
Disclosure: Compensation was provided by Nature Made via Glam Media.  The opinions expressed herein are those of the author and are not indicative of the opinions or positions of Nature Made.